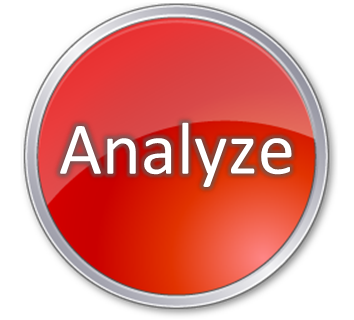 Forces
Identify forces that cause change.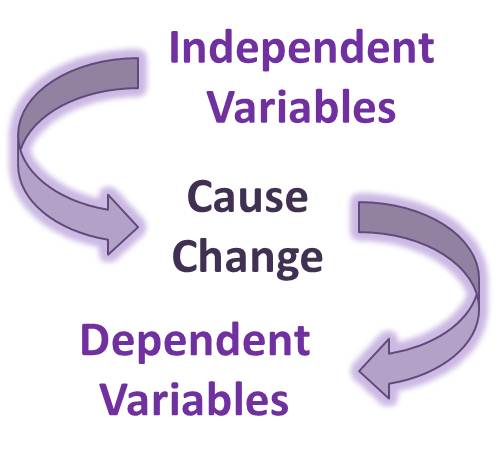 Forces are typically independent variables that cause change. They can help you better understand the relationships between your data. Forces can illustrate: sequences, correlations, cause & effect relationships, and variable dependencies.
Forces can help explain the dynamic features of your situation.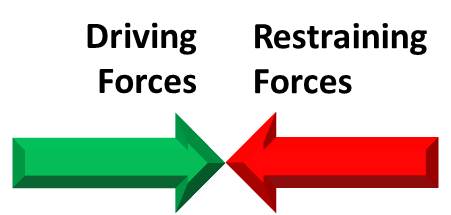 Driving forces are those forces affecting a situation that are pushing in a particular direction; they tend to initiate a change and keep it going. Forces acting to restrain or decrease the driving forces are called restraining forces.
Identify Your Forces
Step 1: Identify all possible forces that influence your issue. Look at: costs, benefits, needs, wants, interests, attitudes, traditions, values, rules, policies, resources, relationships, and leadership. You may also want to look at your list of Factors for more of your variables.
Step 2: Make a list showing your driving forces.
Step 3: Make another list showing your restraining forces.
Step 4: Assign an intensity score to each driving and restraining force. For driving forces, use +1 for weakest and +5 for strongest. For restraining forces, use -1 for weakest and -5 for strongest.
Step 5: Sort your two lists from strongest to weakest.
Analyze Your Forces
Step 1: Identify the forces that deserve the most attention.
Step 2: Compare items on both lists. Are there any restraining forces that offset driving forces?
Step 3: Develop strategies to promote the outcomes you prefer and prevent those you don't favor.
Step 4: How can you strengthen the forces that positively influence the outcomes you prefer?
Step 5: How can you weaken the forces that hinder the outcomes you favor?
Related Tools:
Force Field Analysis: Create a visual representation of how your Forces interact.
Factors: Use your list of Factors to find more variable Forces.
Sources: